Here's what you do Thursday, August 30, 2012
Let's do iPad's, Atlanta style on Thursday!
We've recommended Hemmingway, and Ayn Rand, and the Economist, and the New York Times, and Julia Child, and all sorts of other reading material on Here's What You Do? But, what should you read it on? Well, the iPad is the way to go. As an all-round technology tool, it's hard to beat. With an iPad in hand, you really don't need much else in terms of computing. It's our recommendation for taking on the world and winning - Here's What You Do Style. So, let's get you outfitted with your very own iPad and show you what you can do with it in Atlanta.
Here's What You Do does a new day plan every day. Like us on Facebook below to get updates on your Facebook page.
Here's what you do on Thursday
First
: Fuel up. You gotta be ready for large technology purchases my friends. This requires coffee and a good breakfast. Today, make breakfast at home. A quiche is a good way to go. Quiche is probably the easiest breakfast food you can make that seems the most sophisticated.
Try out this recipe for bacon and spinach quiche from Paula Deen
. That lady sure knows how to bring the tasty. ($15)
Start out the day with a Quiche from Paula Deen
Second
: Buy your iPad. So, we looked around Atlanta and the larger web. And, it seems like the best deal is Microcenter up on Powers Ferry. There, you can get a previous version iPad2 for $359, plus tax, etc. Now, the current version iPad (also known as iPad3, though not officially called that by Apple) is $499 from the Apple Store at Lenox. Note that both of those iPads are 16GB, which is probably plenty unless you're planning on storing lots and lots of music and movies. Also note that neither include cellular capabilities. That means you need to be attached to a wifi network, which you can find in your house, in most coffee shops and stores, hotels, airplanes, etc. etc. We've found in the past that having the wifi version is often all you need.
The bottom line is that we are talking a significant difference in price between the iPad2 and iPad3. But what's the difference between them, and can you live with it?
This blog gives a very good summary of all of the differences
. The big differences are:
The display - this is clearly the biggest difference. The iPad3 has a retina display, which means your eye literally can't make out the individual pixels on the screen because the resolution is too high. That makes for smoother displays of everything. Books, magazines, movies, etc. etc. This is where you really have to consider if it's worth it to spend the $.

The display on the iPad3 is what Apple calls a retina display. Much higher resolution than the iPad2.

The camera. If you're like us, you take lots and lots of picture and videos. The choice of camera is huge in that case. The big difference between the two is the resolution of the camera, which is 720p in the iPad2, and 1080 in the iPad3. Bottom line, the images and videos taken with the iPad2 are pretty good, and you can live with them. The iPad3 improves significantly by ramping up resolution across the board. It's up to you, but the extra cost might help you decide.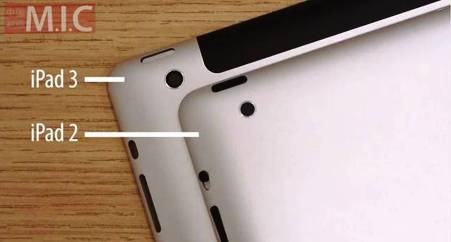 The camera on the iPad3 is significantly improved compared to the iPad2.
So, head on over to either Microcenter (for the iPad2) or the Apple Store (for the iPad3), hunker down, and make your purchase.
DO get applecare
, or Microcenter's special protection program if you're getting the iPad2. The iPad is such a technologically advanced device. Packed with delicate stuff. It just gives you peace of mind. Cost is $99-$199 depending on what you get.
Third
: Personalize your iPad. Ok. You have your new iPad. Now it's time to make it your own. Start with a good case. The iPad does come with a cover, but if you're going to take it seriously, you gotta go for a full case. Trick it out!
Here's a great blog on the best cases out there
. It gives you a really good cross section of what's available. Plastic. Leather. Ultra thin. Ultra cool. Louis Vuitton. Star Wars. It's up to you. Check out this cool Coach iPad clutch. It's $168. Works well for men or women. It's listed in
Esquire mag's best ipad case list
.
An iPad Clutch from Coach. Pretty stylish my friends.
Now, if you're a Here's What You Do author, you really do need to have a keyboard for your iPad. It's a must. The Logitech Ultrathin (
$90
) and the Boxwave Elite (
$50
) fit the bill nicely. See below. They make crafting Here's What You Do content a breeze.
The Logitech Ultrathin Keyboard Cover
The Boxwave Ultra Slim Elite Keyboard Folio.
Fourth
: Lunch Time! What's the best first meal to have with your iPad? That's right. Sushi. If you purchased at the Apple Store, you're just down the hall from
Prime
. Take a seat at the outside tables that overlook the main hall of Lenox Mall. Order some sushi and a glass of champagne to celebrate, and pull out the new iPad to get rolling. Try the sashimi, or the super crunch. It's all good. ($25 per person).
Fifth
: Read Here's What You Do on your iPad. Ok. Shameless plugging. But, the mobile version of Here's What You Do is really great. It's a very simple interface provided by Google's Blogger. And it looks great on that huge display! Especially all our lovely photos. Check out some of our older posts and enjoy!
Sixth
: Take a nap with your iPad. Follow the perfect bed rules. Here's an idea. Get a book on tape, narrated by James Earl Jones, or Morgan Freeman. Let that be your lullaby. Oh yeah...
Seventh
: Dinner time. iPad Style. So, who's using iPads most creatively in Atlanta? We wanted to find out. Apparently, there's a place on the Westside at the Kind Plow Arts Center. It's called
Do At the View
. And they are embracing tech like nobody's business. Here's how they describe themselves:
Imagine a restaurant so advanced that it combines
the arts of music, food and science….

Imagine indulging in a gourmet "SYMPHONY"
of flavors while being surrounded by
four walls that transform at the blink of an eye…

Imagine a powder room with no mirrors…
Imagine a restaurant so "IN TUNE" with
technology that it satisfies your
appetite with the touch of your fingertips…

Imagine a restaurant where paper
menus are a thing of the past…

Imagine do…

We're doing pizza, musically inspired!

do…
ARE YOU READY?
Do at the view brings you great pizza, iPad style.
Ok, so we don't know about all that. But, go check it out. It sounds like a lot of fun. iPads instead of menus. Transforming walls. As a Georgia Tech grad, all I can say is, Awesome!! Check out this picture of their menu below. We hear the food is pretty darn good too. Do! Here we come! The place opens at 5:30 on Thursday. Dinner should run about $30 per person.
Order your lunch, iPad style, at Do at the View in Westside.
Finally
: Listen to some blues. But the iPad can't come. At Blind Willies, they go deep. And one of our favorite artists is Heather Lutrell. She'll take you there. Check this out from
ReverbNation
:

"If you're like us, you prefer your music home grown, and not manufactured.
Well, musicians don't get much more home grown than Heather Luttrell, who grew up traveling the country with her father's band. Music began as a vital part of her childhood; it eventually became an integral part of her soul.
For nearly a decade now, Heather has dedicated her life to sowing her music among the masses, cultivating a dedicated following from the ground up."
Check her out at Blind Willies at 9:30 tonight. Cover is $7. Expect about $8 for a drink. You might wanna leave the iPad at home for this outing. Don't wanna spill any whiskey on it.
Book Keeping
For two people:
Breakfast: $15
iPad Shoping: $359 - $499 plus tax, plus Apple Care. Considered an investment.
Personalizing you IPad: Up to you - part of the investment.
Lunch: $50
Catching up on Here's What You Do: $priceless
Nap: $Free
Dinner: $60
Blind Willies: $30
Total: $155
Day Map
View
iPadDay
in a larger map